The bookmark is a must-have accessory for book lovers. It has been with us since the first article written in 2018, when we started insecurely on an unknown path, and now it has the honour of being the first item available in our online store!
It's been a long time since I published the last article and a new year has begun and whole three months flew away like were nothing! 
After December, which is a magical month, full of events and gifts, I found that I needed a break to get back on my feet, to adjust to the new year, and to gather material for new articles. Therefore, it is a holiday from writing, not from all other activities – someone had to create some bookmarks and more!
The story of the bookmark
I don't remember exactly when or how I was inspired to create the story book sign, but I know that the first one was created for me, followed by another 5, made for SMART girls (Snejy, Maria, Anca, Ramona and Tina ).
I carefully chose talismans that matched the personality of the people I offered (as far as I could understand them at the time), most of them with meanings in symbolism.
The bookmark with story is made out of natural leather, is measured and cut by hand and is always accompanied by a handmade tassel. Talismans loaded with symbolic values ​​successfully complete its story.
The bookmarks were appreciated from the beginning, I even gave mine as a gift twice, and now I'm at bookmark number 3, and it stayed with me. Not to mention the fact that the number 3 has an impressive symbolism, and I am the 3rd child of my parents.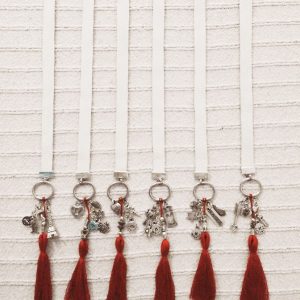 Personalised bookmark
The good news is that today you can choose your own symbols for your desired bookmark!
Bookmarks can be found in the SHOP section, where you'll find bookmarks with story that can be ordered exactly as they are, or you can find the customisation option in order to create your personalised bookmark, choosing your favourite talismans.
You will be able to choose the colour of the tassel and four talismans, from a fairly comprehensive list: animals, plants, objects, letters, religious signs, zodiac signs, other types of symbols, etc.
Our bookmarks will be a click away from people living in the UK.

The Bookma

rk – a versatile gift

The bookmark is a gift with no expiration date and can be offered at any occasion and at any period of the year.

We also took care of this aspect and at the ordering option you can also choose how you want it to be packaged, depending on the occasion or event you are offering it to.

For other preferences you can use the contact details to find out if your requirements can be met!

You will find the following packaging options:
Standard

March

Baptismal favours (pink or light blue)

Wedding favours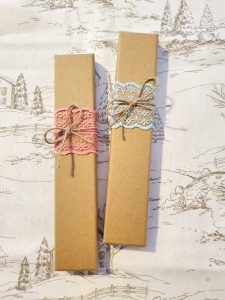 You may be wondering if it is a good idea to give the bookmark as a favour to events – the answer is yes! because a favour can be given to a family/couple and if there are several members it is more likely that at least one of them to be the lucky reader.
Favours are also chosen based on the theme of the event, or other preferences, and it does not always have a different purpose, so there is no reason why a book sign cannot be an event favour.
We hope that the bookmark with story will accompany you on as many trips in the world of books as possible! 
Related articles:
Genuine leather creative ideas
Handmade gift ideas