Flowers make up the setting of most events that take place in our lives, and nature offers us countless resources: flowers, leaves, fruits, woody parts and more. The vase or the type of bouquet chosen will greatly influence the final appearance of the arrangement. With so many elements with which we can create, the possibilities to create are endless.
It's been a long time since I've had time to put together an article, but among the duties of a mother of two dwarfs, I found some time for my little pleasures. Thinking back to when I started making flower arrangements, I remembered that I started in primary school, when I was preparing my own bouquet for the teacher, from the beginning and end of the year, with garden flowers and ferns, some requested from neighbours. For the packaging I used crepe paper, I remember that since then I didn't like that packaging with a silver and a transparent part, which I saw most often with the flowers I bought. This aspect has not changed, I prefer to use baking paper or any other material that I think fits the bouquet.
Birthday flowers
Anniversaries are the most common events. In addition to birthdays, a multitude of other types of events are celebrated. During the time I worked in the flower shop I learned many things, especially making arrangements according to customer requirements, in different combinations and with mixture of flowers in colours that I would never have used so, on my own initiative. I made flower arrangements for animals, for men, for children, I integrated in the arrangements the most diverse objects: beverage bottle, dog food, coconut shell, candy, toys, book, greeting card, engagement ring and various figurines with different themes. I believe that any exercise contributes to evolution and yes, I can't say that all the arrangements were spectacular or that they lived up to my expectations, but most of the time the reaction of the others was a positive one, which encouraged me to continue experimenting.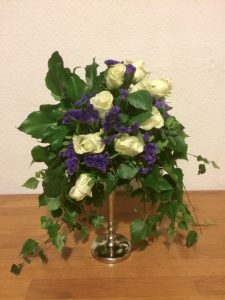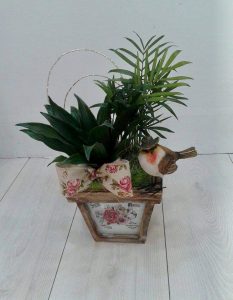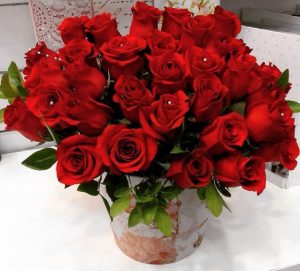 Flowers for special events

Weddings and baptisms are the most anticipated events of the year. Being more complex events, the preparations are made long in advance. Arrangements are made according to the theme chosen, flower preferences and, often, depending on the budget. The most interesting to decorate are the godparents' candles, the garland for the baptismal font, the groom's cockade and the bride's bouquet, the rest of the arrangements are quite similar to those that can be offered on another occasion. The bride's bouquet reflects her personality and must be more spectacular than any arrangement in the room (at least that's what I think). I made the first bridal bouquet for a young lady who didn't know what a bridal bouquet should look like, she just knew she wanted it to be with red roses. I had a free hand, and while making the bouquet I learned that at least 7 roses are needed for such a bouquet – it was a great discovery for me. I was pleased with the result and I was glad that I was able to make a future bride happy – And the bride was super excited even though it was a relatively simple, round bouquet. That's how the bridal bouquet adventure started, I didn't made much, but they are among my favourites. 
This is my bridal bouquet, you can read and see how I planned my wedding in the article: How to plan a wedding .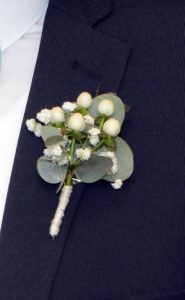 Flowers for festivities
Long-awaited events such as: the beginning or end of the year festivities, galas, competitions and other celebrations planned for different purposes, have flowers as a common denominator. Among emotions of all kinds, almost everyone receives or offers flowers. The variations are endless, but in these cases, when a person receives flowers from more people, I would opt for a small greeting card in the bouquet or arrangement, so that the recipient knows who the flowers are from.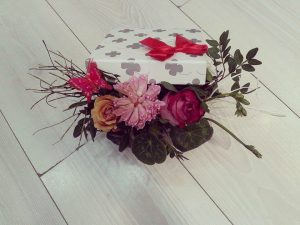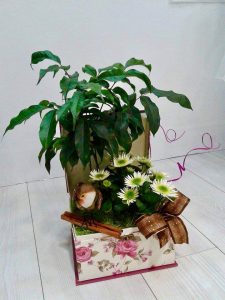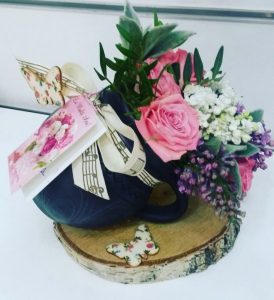 Flowers for the holidays
Easter, Christmas, Valentine's Day,  March 8, Halloween (probably there are others) are specific occasions in which themed arrangements predominate.
These occasions have the specific elements of each holiday that are integrated in the floral creations.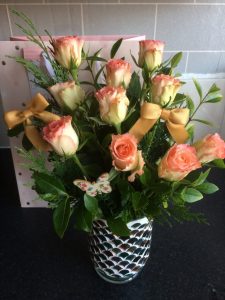 All the arrangements presented in the article are created by me and proposed for the titles in which they were presented. Neither the arrangements nor the photos are the most spectacular, most of them are arrangements that I managed to pose in order to have them remembering, not knowing at that time that they were going to be part of an article. However, I hope it will be a source of inspiration for you!